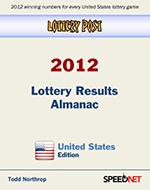 Lottery Post 2012 Lottery Results Almanac, United States Edition
Errata
No errors were reported for this book.
Report an Error
We are grateful for any and all reports of errors in the book, misspellings, grammatical errors, or any other feeback you'd like to offer. Our goal is simply to produce a "gold standard" reference book, and your feedback and reports are essential to meeting that goal.
Until we create a special form for reporting errors, we request that you use our Contact Us page for all reports. When reporting errors, please be specific, including both the title of the book and the page number of the error. Thank you!